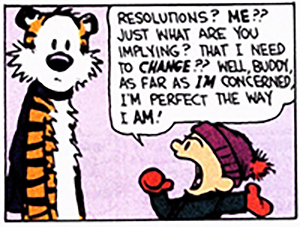 Attention Slackers!
How to Stick to your New Year's Resolutions
Starting your new year's resolutions can be a challenge in itself, and sticking to them is even harder. Luckily, Downtown Lincoln is here to help out. Here are the most commonly broken resolutions and what new 2014 Downtown businesses can help. 
NEW YEAR - NEW RESOLUTIONS - NEW DOWNTOWN BUSINESSES
1. Lose Weight
- Try a new metabolism booster at GNC
- Start your workout with a pre-workout supplement from Rexius Nutrition
- Substitute frozen yogurt from Red Mango as a low fat treat
2. Learn Something New
- Appreciate local artists at Darger HQ
- Learn more at a First Friday at Kiechel Fine Art
- Find the Terminal building's newest resident Rocketship Art Gallery
3. Live Healthier
- Find your zen at Lotus House of Yoga
- Take up a healthier means of transportation at Salty Dog Cyclery
4. Try Something New
- Pick up an oddity at Stella Collective
- The Warm Cookie-cookies delivered
- Try America's first grilled cheese donut at Tom + Chee
- Taste a pretzel dog at Pretzelmaker
- Experience sweet and savory with a Maple Bacon Donut at The Doughnut Hole's new O Street Location
- Stop in for breakfast at Flatwater Bistro
- Hunt for Sasquatch in the Wells Fargo building
- Try ramen noodles like never before at AmuManu Ramen Bar
- Eat it raw at Blue Sushi
5. Travel to New Places
- Book the trip you've always wanted with Travefy
- Visit the home of the most TVs at Twin Peaks
- Check out newly lit "Ascent" at Tower Square
- Go back in time and try candy from the good ole days at Rocket Fizz
6. Save Money
- Talk to a New York Life rep at their new Downtown Lincoln location
- Enjoy happy hour at Ploughshare Brewing Co. 
7. Spend More Time With Friends and Family
- Make family photo cards at Letter Bee Paperie
- Make new friends by joining the coffee club at The Pilgrimer
8. Reinvent Ones' Self
- Ladies can try on a new outfit at Nevaeh Boutique
- Be inspired at Forever Faithful
- Revamp your home with furniture at Boon Found & Made
- Rekindle your Husker pride at the Best of Big Red & reading Hail Varsity, who now offices downtown 
9. Be Less Stressed
- Get out of the house for a night at Karma
- Take a break from studying and head to South Campus
- Enjoy an evening at the Rotana Club | Hooka & Cigar Bar
- Relax and have a meal and a drink with the Irish at McFarland & Son's Irish Pub
10. Volunteer
- Visit the Nonprofit Hub above Raising Canes and find out what nonprofits need your help