FLY aims to be a different type of fitness center. 
From yoga and barre classes to high intensity interval training (HIIT), FLY will bring a variety of workout classes to Downtown Lincoln.
Founded by Dr. Jenni Bruning Brown and Elle Kay, FLY will offer boutique-style classes where customers will be allowed to choose, book and pay for classes without requring a membership. 
Located at 13th and P streets, the bright, bubbly yellow of FLY's exterior is eyecatching. Bruning Brown said the choice for yellow to represent FLY was very meaningful for her.  
"[FLY is] yellow because it's my favorite color; it's bright, it's sunny, music will be playing when you walk in and you're going to feel good," Bruning Brown said. "And if anybody doesn't feel that way then I want to know about it. It's just going to feel different. You go into so many gyms and just feel lost and that's not what FLY is. We just have a different philosophy."
Part of FLY's philosophy is not requiring memberships for customers. This works to create a positive community for people. 
"Our philosophy is making people feel great and obviously we want to give people great workouts because we know we can, but if they don't feel like working out that day, come in and have a cup of coffee, then come back the next day to work out," Bruning Brown said. 
FLY will set the tone during their grand opening on Nov. 19, which also falls the same night as Downtown Lincoln's Shop the Blocks. Kay and Bruning Brown said they plan to have a DJ, red carpet, photo opportunites, drinks and a Lululemon trunk show that night. They will also be promoting a 40 percent discount on all classes and memberships which lasts from now until the end of the 19th.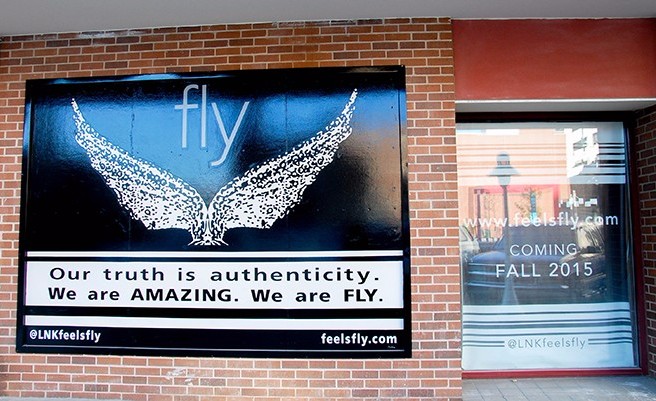 When it came to deciding which classes to offer, Kay and Bruning Brown decided to start from scratch. They designed and formatted all available classes at FLY, and Kay said she expects to add more in the future. 
"We have this many for now but we have so many in our pocket," Kay said. "So you'll see different styles of classes popping up once clients are ready for that."
FLY offers beginning cycle, barre and HIIT classes for those new to those styles who wish to take an intro class. The 101 classes offer customers a 15-minute orientation followed by a 30-minute class. Bruning Brown said it's not necessary to attend these classes; however, the instructors and staff members will help any amateurs learn the basics. 
"All of our classes have a modification," Bruning Brown said. "So anyone who's any level could come to a class. Even if you've never worn cycling shoes before, you can show up to any cycling class that's not the 101, and the front desk or instructors are going to help show you how to clip in. They show you about the gears, and everything, then you start your first cycling class."
FLY also offers a large student discount for yearly, monthly and single class pricing and said they think University students will be a big part of their business. 
"We've also heard from a lot of older people who want to come and that's actually really cool because we want everyone to come," Bruning Brown said. "We want everyone to have this as their happy hour. One of the greatest things about instructing is watching people change and improve themselves in whatever way they want."
---
FLY is located at 201 N. 13th St. 
They are currently hosting a 40 percent off sale on all class packages, unlimited and student memberships.For info on their pre-sale, click here. For a full schedule of their classes and for pricing, visit their website. 
Follow them online at:
Website: http://www.feelsfly.com/
Facebook: FLY I a fitness revolution
Twitter: @LNKFeelsFly
Instagram: @LNKFeelsFly