Downtown's Unsung Hero: Skywalks
Dear Downtown Skywalks,
You are winter's unsung hero. The great rival of cold sloshy shoes. Your mighty metal beams and slick glass panes lift us all high above the transportation troubles below. Every day, rain or shine, snow or sleet, you grant warm passage between point A and B, bank to bank and parking garage to hotel. You bridge many gaps in our downtown lives. Dear skywalk, this is our thank you.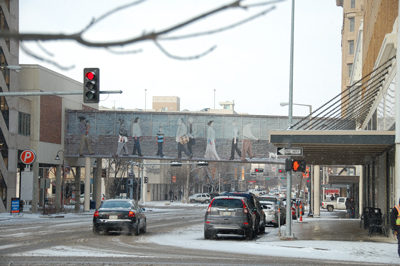 You may be cold as ice on the outside, but you are always a comfortable 72 degrees on the inside. For the step counters or just polite pedestrians, you make the perfect route in the clouds. As I look through your windproof shields, I see the hunched snow covered silhouettes shuffling on the ground below. As the cold searches for their exposed skin I'm reminded that without you, winter's bite between buildings would be all too real.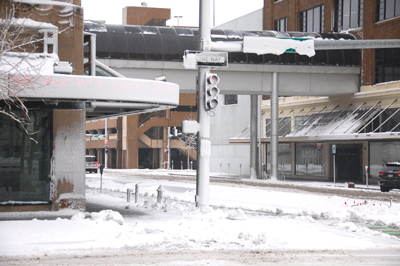 Dear unappreciated system in the sky. Little know your small societies above floor five or the lengths you stretch to shelter snack shops, gyro grills and more. While others franticly struggle to get their high centered cars off snow boulders, I am free to taking my time as I wonder your forgiving pathways to work. You may be overlooked from time to time, but you are never forgotten.
Thank you downtown skywalks.