Downtown Lincoln 2015 Impact Award Winners
The Downtown Lincoln Association (DLA) announced the winners of their 2015 Downtown Impact Awards at their annual meeting October 29th. DLA's Impact Awards recognize businesses or individuals that have made a significant contribution to downtown Lincoln. Nearly 250 people attended the event held at the Embassy Suites Hotel.  The six Downtown Impact Awards included were given to the following recipients:
---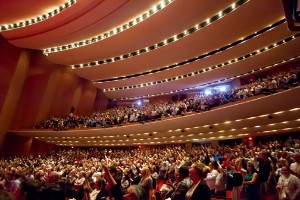 Downtown Business Leadership
Lied Center for Performing Arts
The Lied Center opened in 1990 with Opera Omaha's production of Madama Butterfly, with the mission of bringing the best worldwide entertainment to their stage. Today, under the leadership of Executive Director Bill Stephan, it's not a stretch to say the Lied has completed their goal of being a premier performing arts center time and time again. From performances by Yo-Yo Ma and Tony Bennett; to the Parsons Dance Company and the Cleveland Orchestra, the Lied Center continues to bring world-renowned theatre and performers to Lincoln.
Beyond presenting first-rate entertainment Downtown, the Lied also works to give back to the community through education. They work with both children grades K through 12 and University-level students to expose them to productions and performers through free and discounted student tickets, master classes and immersion projects.
The Lied Center has enriched Downtown's culture and helped make Lincoln a leading performing arts venue both in the Midwest and nationwide. In the past 25 years, they've truly transformed lives through the power of the arts.
---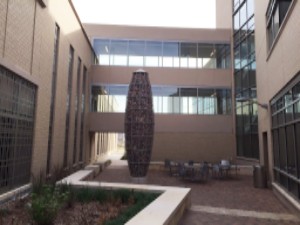 Significant Development
NEBCO | 3 Landmark Centre
The origins of 3 Landmark Centre date back to the late 1920's when the first parcels of land were acquired by George P. Abel, Sr.  In 1964, the City passed a bond issue combining the city of Lincoln and Lancaster county government functions to its present location at 555 S. 10th.  This event triggered a renewed interest by NEBCO in acquiring additional property along Lincoln Mall between the Capitol and the City/County Offices and the construction of 2 Landmark Centre. NEBCO's 1 Landmark Centre was developed in 2002.  In 2012, NEBCO purchased from Farmers Mutual the last parcel of property needed in making Landmark 3 Centre possible, completing the Lincoln Mall vision of George P. Abel, Jr.
Earlier this year, 3 Landmark Centre's development was completed. It took several talented groups and hardworking individuals to complete this project including: Sampson Construction, Clark Enersen, and NEBCO's development team: Bob Miller, Doug Whitehead, Jack Abel, and Phil Abel.
The building on 1128 Lincoln Mall includes 110,000 premium square feet of Class A office space and currently houses the Lincoln Chamber of Commerce, Rembolt Ludtke, and US Senator Ben Sasse.  Unico Group will also be joining the space early next year. 
Current and future tenants will certainly enjoy several building amenities including covered visitor parking, a top floor penthouse suite with an outdoor patio and a courtyard featuring an illuminated cage, a structure filled with aggregate that emphasizes, in art form, the connection between the company's real estate and material operations.
In the end, the building's address says it all, which shares the birthday of Jim's 94 year old mother, Betty, whose motto has always been, "When you do something, do it well".
---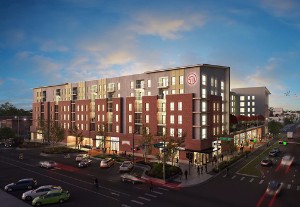 Residential Development
Argent Group & CA Ventures | Latitude
If you're well acquainted with downtown Lincoln, Block 68 should sound pretty familiar.  With long standing as a parking lot, interest in developing the block has been expressed by numerous individuals and groups over the years.  But simply taking a quick look at Argent and CA Ventures, and it should come as no surprise that their partnership is the one that produced real results.
With an executive team with more than a hundred years of experience, Argent Group is no stranger to all aspects of real estate development and property management.  Similarly, large scale, multi-use facilities is what CA Ventures is all about.  Their work can be found in cities like their home base of Chicago, as well as Seattle, Tucson and now Lincoln, Nebraska, among many others.
 Latitude, a 6 story, 408,000 square foot building offers beds for up to 588 residents in 198 units.  Three amenity decks, 280 indoor parking spots and 44,000 square feet of 1st floor retail space further lend to its unique, inviting design. 
However, this is more than a simple or even a complex construction job.  It's more than a student living facility with ultra-modern amenities. This is a catalyst for growth in the whole area.  An influx of younger residents drives new and different redevelopment.  Think bikes, bustling corners and big lights.  Eclectic nightlife and increased retail offerings become a reality of 11th Street.
So much of what's important in downtown projects is potential.  A large scale endeavor like Latitude has a cascade effect.  It opens up the realm of possibility for smaller entities to take a chance where before the risks may have been too great.
---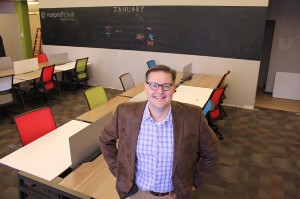 Downtown Champion
Randy Hawthorne
Randy has been an integral part of Downtown for decades. After graduating from UNL in 1992, Randy began working at Alphagraphics on the first floor at 14th and P. A few years later, an internet service company that would become Firespring came to be in the basement of 14th and P, where Randy became the Vice President of Business Development. Today, he sits at the top of that building as the executive director of Nonprofit Hub, a place that provides nonprofits with the resources, education and space to grow successfully.  Nonprofit hub is one of many ways Randy demonstrates a selfless commitment to the next generation of nonprofit startups.
Randy's presence Downtown expands far beyond the office. In fact, in addition to working in the P Street District, Randy has lived Downtown for over 15 years, or as he said, "I've been living Downtown since before it was cool to live Downtown."
Randy seems to have a hand in everything. From serving on the board of directors for Updowntowners, Sheldon Art Association and Leadership Lincoln, to working as the Foundation President for Launch Leadership, Randy is truly a catalyst for change in the community.
Some of the nonprofit hub's employees who nominated Hawthorne had this to say: "Randy Hawthorne embodies everything about making Lincoln, specifically Downtown, the best that it possibly can be. Without Randy Hawthorne, we wouldn't have the Downtown Lincoln we have today. And we certainly wouldn't love it as much as we do."
---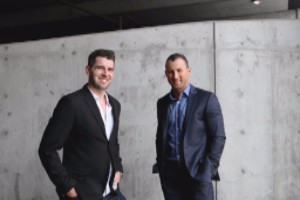 Young Entreprenuer
Blake Lawrence & Adi Kunalic
When Blake and Adi first opened Hurrdat in 2010, it became one of the first startups in Lincoln. Five years and a second startup later, it's one of over a dozen; A testament to their help in developing Lincoln's startup community. Hurrdat helped create an ecosystem to provide startups with access to founders, accelerators, incubators and more.  
In 2013, Adi and Blake joined forces again to create Opendorse, a company that works with professional athletes around the world to develop social media campaigns. In the last two years, Opendorse has established itself as a top tier brand in sports marketing and has further cemented Downtown Lincoln's role as a major sports tech hub in the United States.
With two businesses, three offices and around 50 employees, Adi and Blake have demonstrated their passion for cultivating Lincoln's startup community, bringing jobs Downtown and energizing the P Street District. Let's hope they don't slow down anytime soon.
---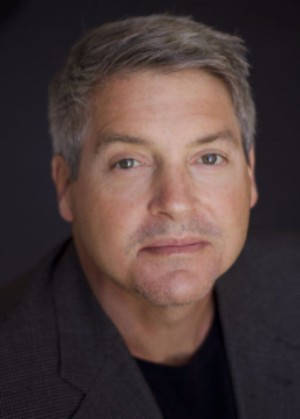 Downtown Visionary
Mike Dunlap
As a co-founder of Nelnet in 1996, the impact of his success is felt throughout Downtown Lincoln and beyond. For a company that has grown in just the last 5 years from 700 employees to over 2000, Nelnet associates are located in the Lincoln Square Buildings, which Nelnet purchased in 2006, and in the Wells Fargo building.
And true to Mike's vision for the company and for Downtown, he has recently partnered with developers to create buildings and office space for his associates in the new Hudl building development in the Haymarket and the recently announced Telegraph District development in Antelope Valley.
Mike said recently his proudest achievement with Nelnet is survival, but his actions for Nelnet speak strongly of a long term vision rather than simply survival for both his company and for Downtown. Instead, a guiding principal for Nelnet is a focus on adding value to customers, creating a great place to work for its associates, growing the core businesses, and diversifying into new businesses.
Making the decision to remain and expand Nelnet in Downtown goes hand in hand with Mike's involvement with Vision 2015 and the development of Pinnacle Bank Arena and other pillars.
Mike's vision for a lively and prosperous downtown is quite literally helping to expand our city's horizons.