Nathan Simpson had a dream.
In it, Simpson served bagels in a shop while the customers sang the classic "House of the Rising Sun."
Years later, Simpson's dream is near reality. Both bagels and customers reside in his new shop where the lyrics to "House of the Rising Sun" can be found painted along a southern wall alongside images of Ray Charles, Janis Joplin and other musicians.
"[The dream] stuck with me for some reason so when I came in here, I saw it had the lyrics to 'House of the Rising Sun' and thought it was pretty cool," Simpson said.
Simpson is the owner of both Meadowlark Coffee & Espresso and Cottonwood. Located at 440 south 11th street, the new Cottonwood acts as a café, bistro and bar.
Downtown Lincoln visited Cottonwood and spoke with Simpson about his dream and his new business. 
---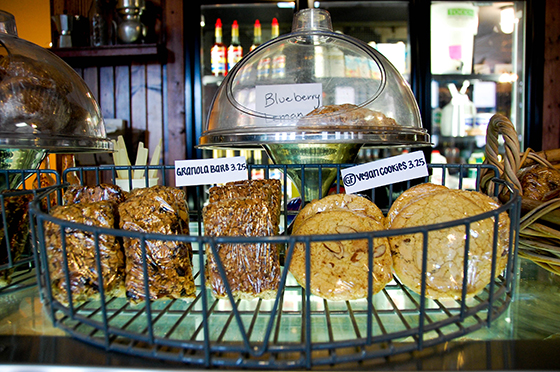 Downtown Lincoln: How and why did you decide to open Cottonwood?
Nathan Simpson: I own Meadowlark Coffee down on 17th and South and we've been there for 10 years. And I've daydreamed about opening a second place but it never seemed to work, location affordability and whatnot. I was approached about having a business here and I thought, 'You know I kind of like that, the brick and the history of the building and everything.' So I just came down and did a walkthrough with Gary and my imagination started going a bit so we made a business plan and got everything situated. First I had one foot in the door, then I had two feet in the door and then I was going. I had a lot of help from the managers here and I think we invested a lot and we're really proud and happy to be here now.
DLA: Are many employees here from Meadowlark?
Simpson: Yeah, I brought a couple over. Obviously, I didn't just want to pull my whole staff from Meadowlark because I have a really good crew there. I have a good crew here too, we're just learning the ropes. We've only been open for three weeks so we're still making choices on what makes sense and what doesn't.
DLA: Are you trying to make Cottonwood a different feel from Meadowlark?
Simpson: A little bit. We've got a bar here, which is different, and a full kitchen, which really changes the dynamic of the place. There's something charming about Meadowlark and I know it's not everyone's cup of tea, no pun intended, but I think we've got something really good going on down there. I wanted to expand on that here and what I really love is the sense of community and comradery and I wanted to bring that here. I want stuff that brings people together in both places.
We have music down at Meadowlark and we're having that here as well. I just talked to a company about doing a pub quiz here which I think would do really well. I don't want it to be too loose-y goosey down here, but I don't want it to be too stuffy either. I want it to feel personal and I think we've kind of got that down here.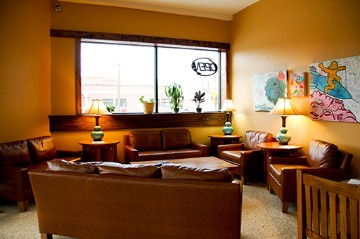 DLA: I saw you guys had a special game day menu, so are you having a rotating menu then or changing it for special occasions?
Simpson: We've only been open for three weeks, so that is on the plate to change things as seasons go by. But right now we haven't adjusted anything except for the game day menu. We did scale back our lunch menu just because we get hit to hard, so we just had to simplify it a bit for the kitchen. We are going to have a game day menu for home games.
Other than that, we do have a breakfast menu that's served until 11 a.m. then we switch over to the lunch menu from there. There's the evening menu, we do pasta and build-your-own stuff for the evening. Other than that, everything should be pretty much the same. We are doing seasonal drinks and coffee specials and stuff.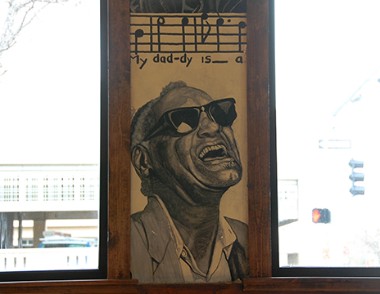 DLA: What are these murals on the wall?
Simpson: Oh, you can look that up on our website, but it was a local artist who put these up. It was one of those things that we talked a lot about when we opened. We weren't sure what to do with it, we didn't want to lose the history but we weren't sure if it quite fit into what we wanted. So we polled a lot of people, there was mixed feelings on it. I think we ended up in a good place. We painted over a few of them, but we did take pictures so we can put them on canvas later, so we didn't lose the artwork completely. We wanted to honor the artist but also wanted it to fit into our theme, which I think it does.
DLA: What kind of music do you guys want to have down here?
Simpson: I'm open to anything, but I'm thinking more of jazz, light blues and world music. There's a reggae band that might want to play, stuff like that. I've always really liked the feeling that jazz brings to a place.
DLA: Do you guys plan on participating in First Fridays and having art at Cottonwood?
Simpson: Yeah, we have art in here right now from Steven Kerns, who's our artist of the month. But we'd like to get into that First Fridays loop.
DLA: Will you select artists for First Friday or will you have artists apply?
Simpson: Both. I have a guy named Jarvis who works at Meadowlark, so anybody who is interested should contact him. If anybody is interested in playing here, they should definitely contact us.
---
Pictured below are Cottonwood's bruschetta, the Joe-Zone Layer buger and the Cottonwood Club.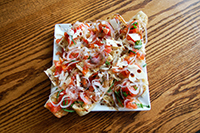 Cottonwood is located at 440 S 11th St, Ste C. 
Their hours are:
Mon-Tue: 7:30 AM - 10 PM
Wed-Thu: 7:30 AM - 2 AM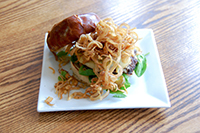 Fri: 7:30 AM - 2 AM
Sat: 8 AM - 2 AM
Sun: 8 AM - 10 AM 
Follow them online at: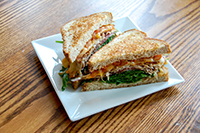 Facebook: Cottonwood 
Website: http://thecottonwoodcafe.com/