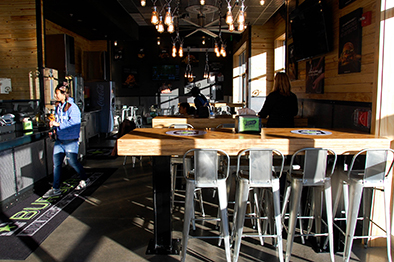 BurgerFi prides itself on its fresh and all-natural ingredients.
Franchised by owner and NBA player, Mike Miller, BurgerFi is one of the fastest growing restaurants in the nation.
"After visiting Lincoln, it was an easy decision for us to come here and be part of this growing and dynamic community in Downtown Lincoln," Smith said. "We thought that bringing our concept would bring something different to this area where our guest can get great food, in a cool environment and in a timely manner." 
Smith said although their menu is simple, what they do offer is great and filled with all-natural ingredients. He said their "Breakfast All-Day" burger has been their best seller in Lincoln so far, which consists of a potato bun, Angus patty, hash browns, a fried egg and more.
In addition to focusing on sustainable ingredients, BurgerFi also uses recycled furniture and products in an effort to provide an earth-friendly business.
BurgerFi also partnered with University of Nebraska-Lincoln's athletic department to give free custard to guests after UNL basketball games if there are at least three six-point shots.
Because timeliness is important to BurgerFi, in addition to in-store ordering, customers can order online at BurgerFi.com for take-out.
BurgerFi is also known for their philanthropy, as they often pair with charities and organizations to donate money.  
For the month of November, BurgerFi worked to raise money for the Wounded Warriors project, a charity and veterans service organization.
Miller said they plan to raise money for various organizations in the future, and interested parties should contact Ken Ratliff, BurgerFi's general manager, for details.
"This has been a highly successful program for us and allows us the opportunity to give back to our community," Miller said.
BurgerFi's Happy Hour is from 2-6 PM, and 9 to close every day. They offer $3 pints, $10 pitchers and $2 hot dogs.