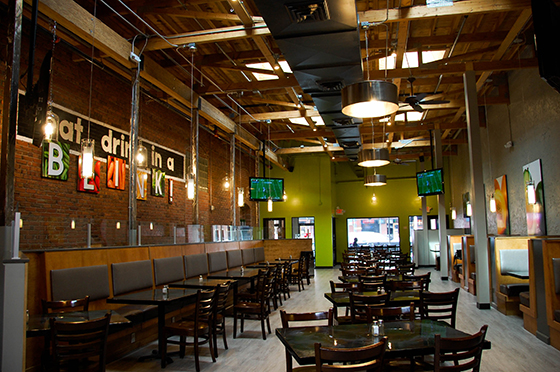 A new restaurant, with hopes of becoming a major franchise, has found a home in the Haymarket. 
Blink!, a new casual eatery, has moved into its location at 8th and Q. 
Brian Eichelberger, the manager of Blink!, said the restaurant serves mainly fresh and healthy food for customers, with an emphasis on homemade goods. 
Eichelberger said in addition to taking care of their customers, Blink! hopes to take care of their staff as well. This means paying employees at least $10 an hour and recruiting positive, passionate people. 
"We try to take care of them," Eichelberger said. "We've got a lot of University students, a lot of hospitality majors. We try to go after them because they have a passion for this, and so it makes sense. We went after some cooks we know who have lots of experience and good attitudes."
Though Blink! is less than a month old, Eichelberger said there have been talks of franchising the restaurant with hopes of opening two more locations in the next six months. 
Downtown Lincoln spoke with Eichelberger, the manager of Blink! to discuss the new restaurant's goals and its dishes.
---
DLA: So the goal of Blink! is to provide fast, fresh casual food?
Eichelberger: Yeah, fresh casual is the term, but fast casual is kind of what we're doing here. We don't have any fryers, most of our side items are very, very healthy. Everything is made from scratch, and they taste great—which is crazy. Usually the food that tastes good isn't good for you
DLA: I saw you are also selling alcohol. Is Blink! trying to create a night atmosphere here as well?
Eichelberger: For sure. We don't want to be a bar, but we do want to provide some of that upscale gourmet café atmosphere. We have some sangrias, then we have craft beers and a wine keg. I think our wine keg is the largest one in Lincoln. It has three taps. Two reds and one white. Then we have Coors Light, Bud Light and craft beers. Our sangrias are made in-house—their recipes are from Spain and Italy, so very high quality.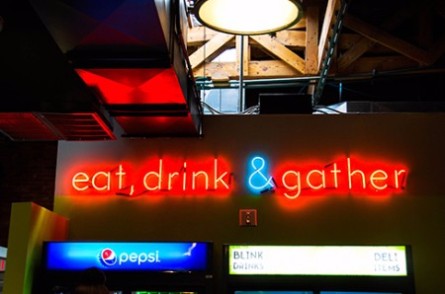 DLA: What are some of your favorite things on the menu?
Eichelberger: You know, the Barbecue Bison Blend is a rockin' hot sandwich. On the cold side, we have five different gourmet chicken salads. We have a chipotle which doesn't have any heat at first but after about five seconds it kicks in – it can be pretty spicy. We also have a buffalo chicken salad, which is a medium heat.
All of our soups are made in-house. We've got a tomato basil, a beer cheese—which actually uses Zipline's Copper Alt beer. Then we have a broccoli cheese, so those three. We'll switch those out occasionally.
Downtown Lincoln: So is the BBQ Bison Blend your signature sandwich?
Brian Eichelberger: It's our most popular right now. A bunch of them are selling really well, but that one sells the most. It's got hamburger, bison—20 percent—and bison is healthier for you. That's kind of our whole goal, healthier food.
DLA: Is there a plan to do anything seasonal for fall?
Eichelberger: Yes, we're looking at adding more hot sandwiches. Maybe two, maybe three, maybe more. Then we'll add hot chocolate, hot apple cider to the menu.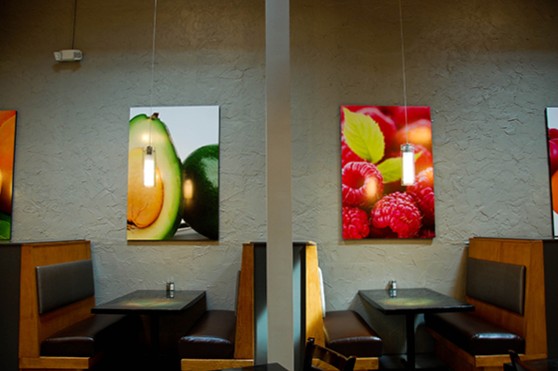 DLA: What kind of feedback have you heard so far since the opening?
Eichelberger: I haven't heard a single bad thing so far. Everyone said they couldn't believe the reasonable prices on the food and they seemed to really like the menu. Now it's our job to get the word out and let people know. 
DLA: Is there anything else you'd like to add?
Eichelberger: What else? We have the fastest wireless internet for customers. We also have an ordering kiosk. On football Saturday we were completely full inside and on the patio, and our longest ticket time was seven minutes. That's crazy. Speed gourmet is our thing. We want to be known as a technology company that serves great food. We'll have all the Husker games here and we have the Big Ten network.
---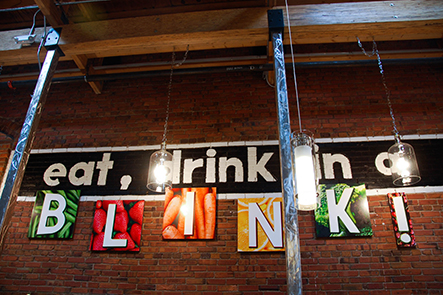 Blink! is located at 8th and Q in the Haymarket.
Their hours are:
Sunday – Thursday 10:30 a.m. – 10:30 p.m.
Friday – Saturday 10:30 a.m. – Midnight
Follow Blink! online at:
Website: http://blinkeatery.com/
Facebook: Blink Casual Eatery
Twitter: @BlinkEatery