Scarlet Days 2015
Welcome students and parents to another year of school and Downtown Lincoln life. To celebrate the first week of class we have created Scarlet Days, a week long sales event from August 23rd to August 29th at participating downtown retailers. Most sales prices start at 20% but vary from store to store. To get the Scarlet Days discount you must show a current student ID. 
---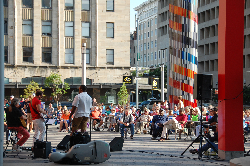 Scarlet Welcome Concert
Something new to Scarlet Days this year is the Scarlet Welcome Concert. To wrap up Scarlet Days and the first week of class there will be a free concert held at Tower Square (13th and P) and will feature Josh Hoyer & Soul Colossal (soul, R&B, funk), Glo Worm (dream pop, indie), and Jarana (flamenco, latin fusion). There will also be vendor booths, both retailers and food distributors. They will be handing out info on their stores, coupons and even some free samples. The bands will play from 5 PM to 9 PM Friday August 28th. 
---
Scarlet Days Participating Shops
Lincoln Running Company - 20% off regular apparel, 15% off shoes
Burlington Antiques - 15% off items $10+
Ten Thousand Villages - 15% off total purchase
Lincoln Olive Oil Shop - 10% off all oils
KD Designs - 20% off storewide
Licorice International - 10% off storewide
Gomez Art Supply - 5% off paper and photo supplies, 15% off everything else
GNC - 30% off or better plus free shaker with purchase of $50 or more
Post & Nickel - 20% off regular priced items
Forever Faithful - 20% off storewide
Best of Big Red - 20% off storewide
Stella Collective - 20% off storewide
Tsuru - 20% off storewide, 50% off clearance
Abesque Variations - 20% off select merchandise
Husker Headquarters - 20% off storewide
Threads Footloose & Fancy - 20% off storewide
Black Market - 20% off storewide
Kiechel Fine Arts - 10% off wine, jewelry & small sculptures
Letter Bee Paperie - 20% off storewide
Indigo Bridge Books - 20% off storewide
*note: deals and participating retailers subject to change
---
Scarlet Welcome Vendors and Give-Aways
Downtown Lincoln - Downtown Lincoln gift cards, cups, pens, t-shirts, and other goodies
Gomez Art Supply - tbd
Tsuru - tbd
Lincoln Running Company - tbd
GNC - coupons, supplement ideas and info
Threads-Footloose & Fancy - Chaco sunglasses, stickers from Keen, The North Face, Chaco & Patagonia, lip balm, pens, key chains and more
Picklemans Sandwich Shop - tbd
Tico's - tbd
Sebastian's Table - tbd
Indigo Bridge Books - tbd
Qdoba - sampling chips/queso or mini nachos, possible swag
Stella Collective - info post cards 
Jersey Mike's Subs - subs, menus, coupons
Lied Center for Performing Arts - fans, tickets, swag
Latitude Apartments - swag, apartment coupons, T-Shirts
Best of Big Red - coupons
Forever Faithful - coupons
Bella Spa - coupons and other giveaways
Canopy Lofts/WRK/Railyard - various marketing materials, goodies