Haymarket Unwrapped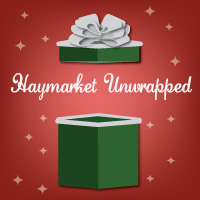 A Holiday Gift Shopping Event!
December 12, 2015 - LINCOLN, Neb.—The Downtown Lincoln Association (DLA) and the Lincoln Haymarket Development Corporation (LHDC) are proud to announce the premier of Haymarket Unwrapped. The event will take place in downtown's Historic Haymarket district on Saturday, December 12th, from 11:00 a.m. to 6:00 p.m.
This FREE event will allow shoppers to enjoy special discounts, prizes, appetizers, live entertainment and special sleigh rides as you stroll through Downtown Lincoln's Historic Haymarket District.
This year's gift shopping celebration will feature 15 of Haymarket's specialty shops, offering discounts along with holiday treats, prizes and activities in each store. To enhance the holiday atmosphere, shoppers will be able to explore the area while taking a ride on Santa's sleigh, which happens to be a dressed up Pedal Pushers pedicab.   
See live outside the Creamery Building on 7th and P Streets, including performances from the Lincoln Boys Chorale Choir and the Capitol City Cloggers from 1:00 p.m. to 4:30 p.m. Additional entertainment will include festive volunteers strolling about the area from 1:00 p.m. to 4:00 p.m.
Haymarket Unwrapped discount guides will be available for free pickup at participating retail shops. Guides include the list of in-store discounts, treats, use of pedicab service, and more.
Visit HaymarketUnwrapped.com for a complete list of participating retailers, in-store discounts, and up-to-date details.