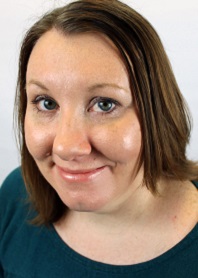 February 2015: Mary Kate Gulick
Nomination:
Mary Kate was nominated by her boss, Kelly Medwick, who said the following about her colleague:
"Mary Kate brings business-world marketing talent to our not-for-profit work with a genuine commitment. She is a gifted storyteller building a network of supportive citizens who want Nebraska to be the best place in the U.S. for kids to reach their full potential. She is a member of Leadership Lincoln, AMA Lincoln, among other child-serving groups."
"She has an amazing family -- husband Josh, and sons Max (6) and Charlie (4). She grew up in Chicago, but is a Nebraskan by choice and loves this state and the community of Lincoln. She really enjoys being a Downtown Lincoln employee and loves home base at the Lincoln Community Foundation building, and one of our favorite "offsite" meeting places is Catalyst in the Haymarket -- which offers its space to nonprofits at no charge. Mary Kate discovered it for us, of course!
As this month's winner Mary Kate received a $50 Downtown Lincoln Gift Card and a 1 Month Free Membership for her and her family to the YMCA.
Q & A with Mary Kate:
How long have you been with your employer and/or working in Downtown Lincoln?
I've been at Nebraska Children and Family Foundation for 2 years. It's my first job in Downtown Lincoln and I love working in the heart of the city.
What is your primary role in the workplace?
I'm responsible for Nebraska Children's marketing and public relations, making sure that partners and prospective donors know who we are and what we do.
What is your favorite part about working at your company?
I love knowing that what I do makes a difference in the lives of Nebraska's most vulnerable. It's amazing to support work that gives kids in need the same opportunities that my kids have.
What is your favorite place to eat in Downtown Lincoln?
That's the hardest question you could have asked me. Amu Manu is amazing when you need something to warm you up. Watering Hole is my favorite spot to go solo and get some work done (because wings make me smarter), Bread & Cup is where it's at for quiet lunch meetings, and Sebastian's Table is the best for dinner when the week has taken all your energy.
What is your favorite thing to do Downtown Lincoln?
When it's warm out, my favorite thing to do is sit in the Foundation Garden and read over my lunch hour. It totally refreshes me. My husband and I love to come down to see the Lincoln Symphony Orchestra at the Lied every chance we get (which isn't nearly enough).  
---
Do you work in Downtown Lincoln alongside a talented and driven colleague?  Click here to nominate them for next month's Downtown Employee of the Month.