July: Lisa Fryda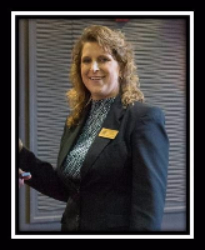 Lisa Fryda is the general manager of the Marcus Theater Grand Cinema. She is also someone who has devoted a lot of her time to philanthropy. Lisa was one of three recipients of the 2014 Ben Marcus Humanitarian of the Year awards. The Downtown Lincoln Association is recongnizing her for service as a Downtown Employee and going above and beyond what is expected of her for others.
---
How long have you been with your employer and/or working in Downtown Lincoln?
I have been with the Marcus Corporation since April of 2008.  I have been working in Downtown Lincoln since 1990.
What is your primary role in the workplace?
General Manager
What is your favorite part about working at your company?
I am proud to be part of a company that encourages its associates to give back to their communities. Locally, I really enjoy the opportunity to interact with so many unique individuals and businesses that make up the community of Lincoln.
What is your favorite place to eat in Downtown Lincoln?
The Oven.
What is your favorite thing to do Downtown Lincoln?
Attend the Lied Center for Performing Arts