December 2015: Levi Nelson - Travefy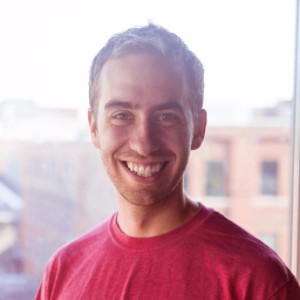 "Since Levi came on board 1 year ago, his designs have increased our user base by 350%! He is also a big supporter for local businesses."
- Stephanie Gries 
---
How long have you been with your employer and/or working in Downtown Lincoln?
I've been working at Travefy in the Haymarket for about a year and a half. Before that I worked at Hudl, so I've been downtown a total of about three years now.
What is your primary role in the workplace?
We always joke about titles at Travefy because we all wear so many hats, but I usually say "I do product design at Travefy". Practically speaking, this means I lead the vision for the Travefy product, conduct user research, design the user experience, help coordinate our awesome product team toward our goals, and write some front-end code.
What is your favorite part about working at your company?
At Travefy, I love that we get to build products that make people's lives easier as it relates to travel, but that wouldn't be very fun if it weren't for our awesome team. I love working with a nimble, fast-moving team of intelligent and positive people. We can conceive of an awesome idea for our product and get it out the door in a matter of hours or days or weeks, which is incredibly liberating as a designer.
What is your favorite place to eat in Downtown Lincoln?
Oh man! Do I have to pick one? Our office is in the Haymarket, so I gravitate toward The Oven or Vincenzo's when I just want to go across the street, but other favorites at the office are Chipotle, Sultan's Kite and Amu Manu.
What is your favorite thing to do Downtown Lincoln?
I love coming downtown for Husker football or basketball games, hitting the Farmer's Market or Ivanna Cone with my family, drinking coffee at the Mill, or getting pizza and drinks with friends at Old Chicago.